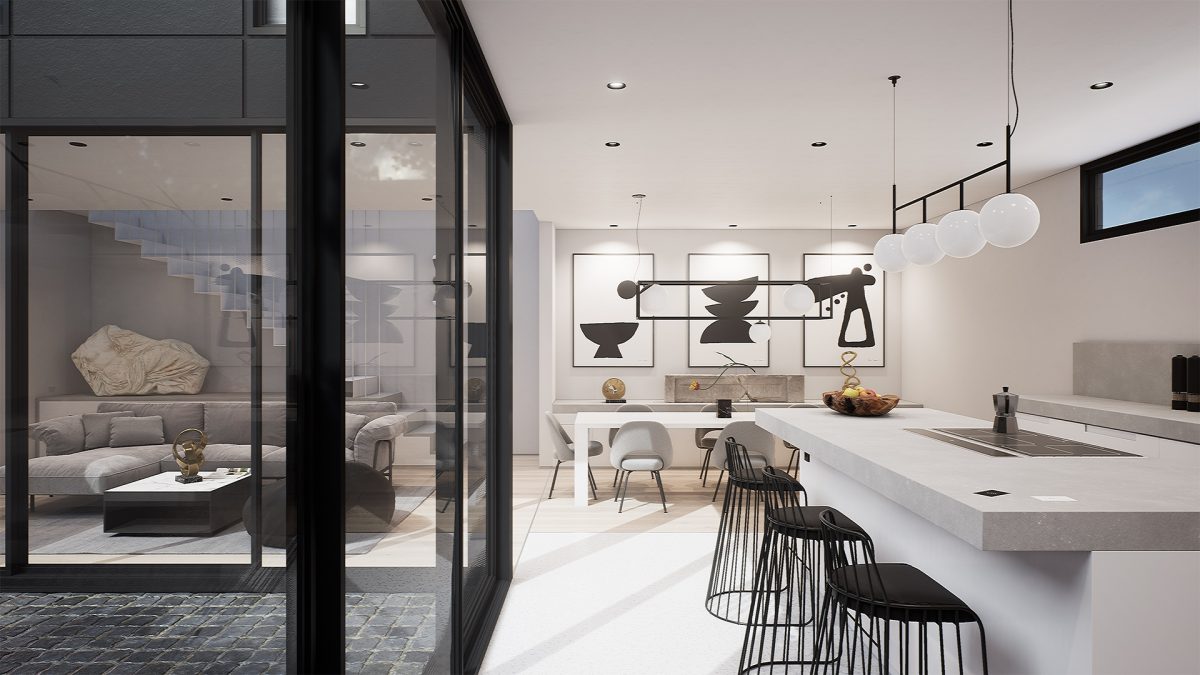 What is an outdoor 3D virtual tour?
An exterior virtual tour is a photorealistic simulation of an outdoor space. On land or in the sky, your customer can take the lead as they discover and interact with a 3D model. The focus is on the architecture and environment of the outdoor space.
Just like with an interior virtual tour, exterior virtual tours offer users a unique and exciting experience. Virtual reality is gaining in popularity and has now become the quintessential way of showcasing outdoor spaces. By strapping on a virtual reality headset or by facing a screen with a joystick in hand, users can instantly dive into the imagined space.
A simplified sales process thanks to virtual reality
There are several different types of virtual reality to choose from. The different options are categorized by the experience they offer the user: static (3D renderings), semi-static (360-degrees images) or interactive (virtual tour). Each option has its advantages and disadvantages, ranging from the quality of the images to the price.
Most of the time, customers are looking to be instantly transported to a remote location or space that is currently under construction. On top of providing a comprehensive overview of the space, many real estate showings now happen through the virtual tour instead of through the real estate agent or seller. It's easier to make the sale because of how much information can be relayed to the buyer, allowing them to make an informed and conscious decision.
The type of presentation you choose will depend on your budget and what you're aiming to accomplish. You guessed it, exterior virtual tours are often more expensive than simple exterior 3D perspectives or even 360-degree photos. However, it is the only option that allows your customers to become the masterminds of their own experience and discover their future space. It is important to note that exterior tours allow you to create simplified clips or realistic images that can be reused in advertising campaigns or promotions.
Examples of when an exterior virtual tour would be a great idea: When a customer wants to tour the outdoor common areas of a condo complex under construction, a downtown office tower or an urban neighborhood development.
The outdoor virtual tour for real estate players
Whether you are a property developer, in charge of marketing a new development or even an architect, consider offering your customers an exterior virtual tour.
During the general design phase, a virtual tour will allow your customers to instantly see themselves living in the space by exploring the outdoor environment.
During your presentations, arm yourself with the most suitable virtual supports by allowing your customers to get involved in their own experience.
Create a variety of photo and video content that can be used in your advertising campaigns (pamphlets, social media, etc.)
If you have a new project or a burning question, contact our team of experts today. We would be happy to look into your project and will get back to you as soon as possible.