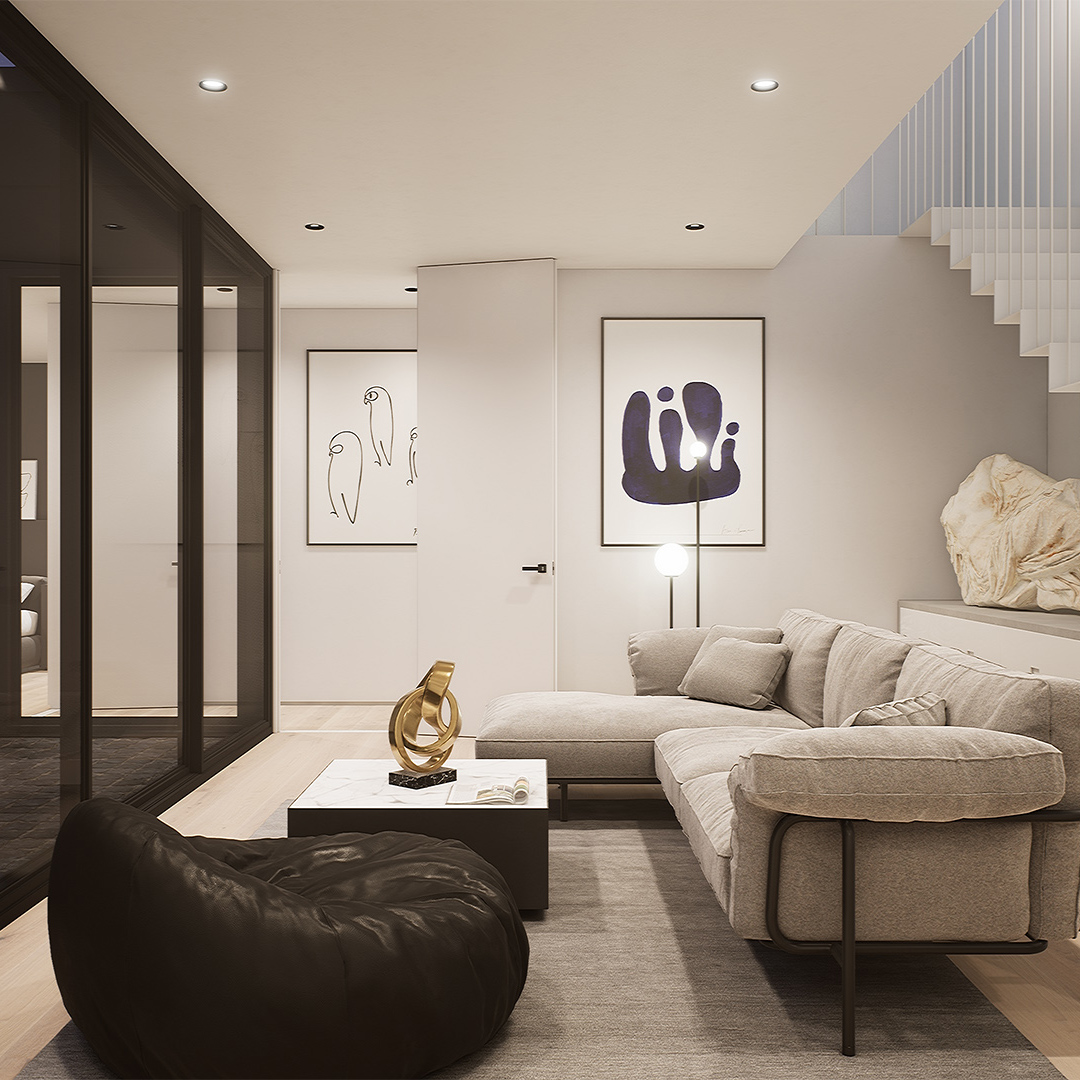 What is a 3D virtual tour?
A 3D virtual tour is a digital simulation of a real or fictitious place. It is a full-immersion experience that allows users to move around a space as if they were in a video game. The tour itself can be set to background music or accompanied by detailed descriptions. The tour runs on a program that does not require any additional software and instantly transports users into the space by wearing a virtual reality headset or looking at a screen.
3D virtual tours should not be confused with 360° virtual tours which are made up of several pre-selected 360° panoramic images that can be manipulated by the user.
Why offer a 3D virtual tour?
Whether the person taking the tour is a potential buyer or a judge in a competition, the 3D virtual tour will give them an unforgettable immersive experience that materializes right before their very eyes. And lucky for you, sight just so happens to be one of the most important senses in decision-making.
Superior to classic architectural renderings, 3D virtual tours are not only hyper-realistic but give users a hands-on experience that allows them to picture what their future space will look and feel like.
An asset for real estate players
Virtual reality is the definition of putting the "cherry on top" of your real estate project. It will give you that extra edge over your competitors and help speed up the most important step in any project: making the sale. Create a memorable experience for your customers by transporting them into a conceptual life-like world.
This innovative, new technology has a direct impact on the real estate industry:
The purchasing decision happens a lot faster. By eliminating the back and forth that comes with deciding whether or not the customer will make the purchase, you shorten the entire lifespan of your project. This gives those in the real estate industry more time focus on other projects and grow their business.
Virtual reality actually offers a really good bang for your buck, which translates into you being able to sell your space for what it's worth.
Archvyz, partner of your success
Our team has been using innovative tools to help the real estate industry reach new heights for years. Our passionate and knowledgeable team is made up of first-rate 3D and virtual reality professionals. Archvyz's 3D virtual tour is one-of-a-kind! We draw inspiration from modern, hyper-realistic video games to create stunning, specialized design and architecture projects. Contact our team of 3D designers and architects today.
Step by step, the stages of your success
Whether you're looking to sell a loft, a condo or a house, we follow a foolproof work process that can be adapted to suit your needs. No project is too big or too small. We love what we do, and we bring that passion to your project.
Step one: setting up a meeting and gathering all of the necessary information.
You must first submit all of the necessary documents for creating the architectural visualization: plans, sketches, mood boards, etc. To better meet your expectations, here are some things to consider when submitting your project to us:

Send us a detailed plan of the space, including each piece of furniture and its location. Whether you created your plan by hand or used a program like ArchiCAD or AutoCAD, it is important to include as much detail as possible. Sending us a photo of the space (if it has already been built) will save us a lot of time and guesswork.
It's a good idea to try to find additional photos or interior design images on the Internet (or elsewhere) that match the look you want to achieve. This will give us an idea of your tastes and what exactly it is your customers are looking for. You can probably find what you're looking for on websites like Houzz or Pinterest (which are full of all sorts of these kinds of pictures and images). As they say, a picture is worth a thousand words. Tell us about your preferences and what your customers just can't get enough of. Do you have a thing for wood accents? Does the colour blue speak to you? Similarly, if there is something you absolutely cannot stand, we want to know about it!

Step two: design and implementation. Here is a more detailed look at the 6 steps that we go through to create an executable that you can use to take your customers on a 3D virtual tour and win them over with your stunning space.

#1. 3D modelling. Measuring out all of the walls and surfaces. This first step is for laying down a solid foundation for the rest of the project. Although there are several different 3D modelling software options to choose from, we prefer using Autodesk 3ds Max.
#2. Recreating textures and materials to make the image more realistic. Once the space has been modelled, we carefully add in any of the specific physical characteristics of every element, including colours, textures and the degree of light absorption or reflection.
#3. Choosing a light source. You can choose between artificial or natural light. This will dictate what the final rendering of the image will look like. This step creates shadows and makes the image really come alive.
#4. Creating renderings and video animations. After receiving the deliverable, you can then extract as many fixed 3D renderings as you like. We also provide you with several images and a video animation, if that's what you need.
#5. Designing the executable. What do you want to include in the program's welcome menu? Your contact details and your website URL? Let us know exactly what you want.
#6. Post-production. The image is now almost finished—all that's left to do is edit it as if it were a photo using software such as Adobe Photoshop, Adobe After Effects Pro, Adobe Premiere Pro or Adobe Photoshop Lightroom.
We provide you with regular progress updates throughout the entire project so that you can make any tweaks or changes that you like along the way.
Last step: delivery of deliverables
We deliver an executable that will allow your customers to take the virtual tour on a computer screen or using a virtual reality headset. We also deliver any fixed 3D renderings and animations that you may need. We also teach you everything you need to know so that you can extract your own fixed 3D renderings from the executable.
Creating a high-quality 3D rendering is an art in and of itself. Achieving highly realistic 3D renderings requires specific knowledge that only experienced professionals have successfully honed. Feel free to browse our portfolio (although it presents only a small part of our work) so that you can see for yourself just how dedicated we are to producing high-quality results.