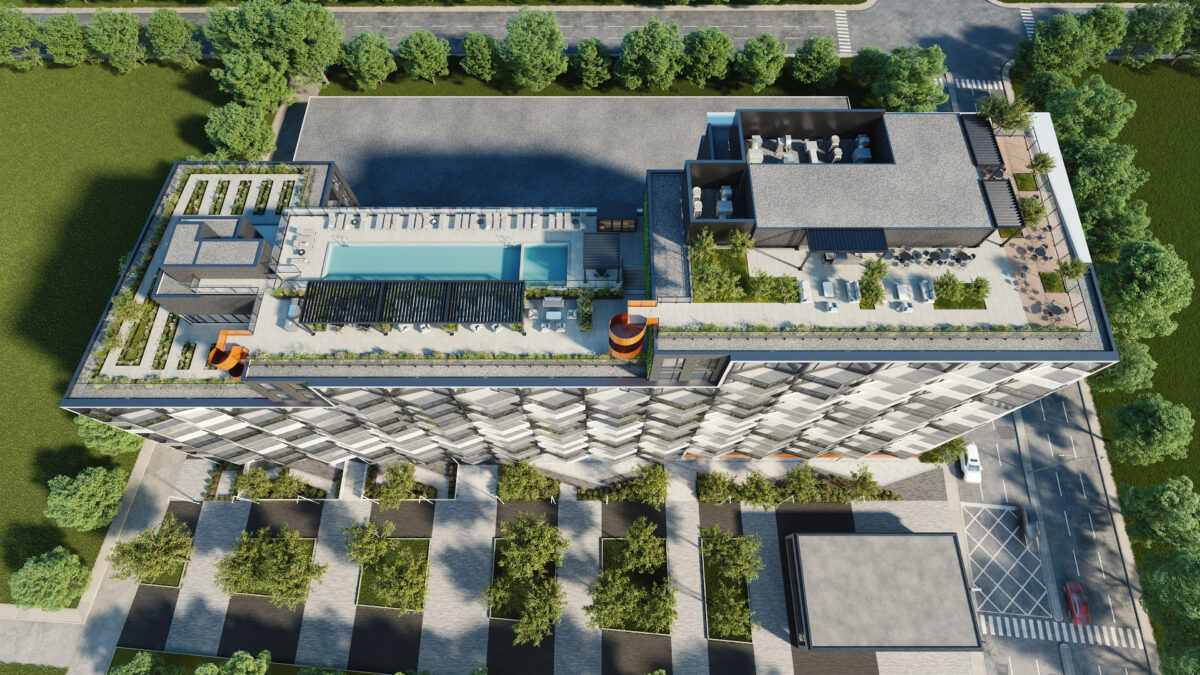 Architectural rendering, architectural visualization and 3D rendering are all terms that refer to the visual representation of an architectural project after completing a modelling phase using specialized computer software. We use the terms interior 3D rendering or exterior 3D rendering when we are referring to presenting the inside or outside of a building.
The process of creating a 3D rendering is similar to that of creating a scene in a video or movie. The decor elements are carefully arranged. The unexpected can be controlled. The lighting is carefully chosen for each project so that the space looks its best.
Who are our architectural rendering services for?
Our 3D agency helps several different collaborators from different fields in the real estate industry. Here is a list of jobs that would benefit from using architectural renderings:
Decorators use 3D renderings to present their customers with an overview of the work they will do once they've been given the go-ahead on a project. They create several different versions of the same project so that the customer can choose which one they like best.
Architects use 3D renderings to present their customers with a realistic and understandable version of the plans they create.
Real estate developers use photorealistic architectural renderings as marketing tools so that they can present and sell planned spaces or projects that are currently under construction.
Manufacturers use professional 3D renderings that integrate their products into the meticulously constructed environments so that they can enhance them and present them to their customers or business partners.
Step by step, let's prepare for your success
Every project uses its own specific type of architectural rendering. Just as a doctor prescribes the right medication for the problem, it is important to choose the right type and number of renderings that need to be created, depending on what you want to achieve.
For showing off indoor spaces: interior decorating, renovating, presenting furniture and other interior products. Interior 3D renderings can breathe life into the space and elicit a desired emotional response from the customer.
For showing off outdoor projects or environments: buildings and houses in the design phase, coastline redevelopments or even showing outdoor products. 3D exterior renderings can really embody the look and feel of the space.
You often have to combine several different types of 3D architectural renderings to bring everything together and create a comprehensive overview of the project.
Whether your goal is to convince a buyer, showcase your project in its best light to win a competition or promote your work on social media, we will provide you with the visuals that you need to reach your goals. We rely on customer recommendations and being the best in the business to reach new heights.
Our passion is contagious, and our know-how is second to none. Whether sharing images online, using them in print advertising or projecting them onto a screen for a presentation, quality visuals are essential to the success of any large or medium-sized project.
Whether you need to create a backdrop to sell a product, design a restaurant, sell a loft or construct a building, we have developed a solid work process that can be adapted to suit your needs. No project is too big or too small. We love what we do, and we bring that passion to your project.
Step one: gathering and verifying all of the necessary information.
You must first submit all of the necessary documents for creating the architectural visualization: plans, sketches, mood boards etc. Trust us to understand you—we are a team of qualified 3D specialists with more than 300 projects under our belt.
To better meet your expectations, here are some things to consider when submitting your project to us:
Send us a detailed plan of the space, including each piece of furniture and its location. Whether created your plan by hand or used a program like ArchiCAD, AutoCAD or Revit , it is important to include as much detail as possible. Sending us a photo of the space (if it has already been built) will save us a lot of time and guesswork.
It's a good idea to try to find additional photos or interior design images on the Internet (or elsewhere) that match the look you want to achieve. This will give us an idea of your tastes and what exactly it is your customers are looking for. You can probably find what you're looking for on websites like Houzz or Pinterest (which are full of all sorts of these kinds of pictures and images). As they say, a picture is worth a thousand words. Tell us about your preferences and what your customers just can't get enough of. Do you have a thing for wood accents? Does the colour blue speak to you? Similarly, if there is something you absolutely cannot stand, we want to know about it!

Step two: design.
There's no time to lose! The sooner we get the information we need, the sooner we can get to work. First, we create a draft of the 3D rendering by using all of the information that you have given us.
Here is a more detailed look at the 6 steps that we go through to create photorealistic 3D renderings:
#1. 3D modelling. Measuring out all of the walls and surfaces. This first step is for laying down a solid foundation for the rest of the project. Although there are several different 3D modelling software options to choose from, we prefer using Autodesk 3ds Max. This part takes the longest.
#2. Recreating textures and materials to make the image more realistic. Once the space has been modelled, we carefully add in any of the specific physical characteristics of every element, including colours, textures and the degree of light absorption or reflection. Just like with 3D modelling, there are tons of different software programs available on the market. However, since a magician never reveals all of their secrets, we will keep our favourite under lock and key.
#3. Choosing a light source. You can choose between artificial or natural light. This will dictate what the final rendering of the image will look like. This step creates shadows and makes the image really come alive.
#4. Choosing the right angles. It's important to choose angles that will make the room or building look its best.
#5. Creating the renderings. This step happens once the 3D model is ready to be projected onto a 2D surface. It's almost like taking a picture.
#6. Post-production. The image is now almost finished—all that's left to do is edit it as if it were a photo using software such as Adobe Photoshop, Adobe After Effects Pro, Adobe Premiere Pro or Adobe Photoshop Lightroom. We provide you with regular progress updates throughout the project so that you can make any tweaks or changes that you like along the way.

Last step: delivering your 3D architectural rendering.
We deliver only the highest quality architectural renderings. Creating a high-quality 3D rendering is an art in and of itself. We format the deliverables into files that you can then print off and use on posters or download and post to your website or share on social media. Allow us to help you! We care about you and your project and can't wait to be part of your success.