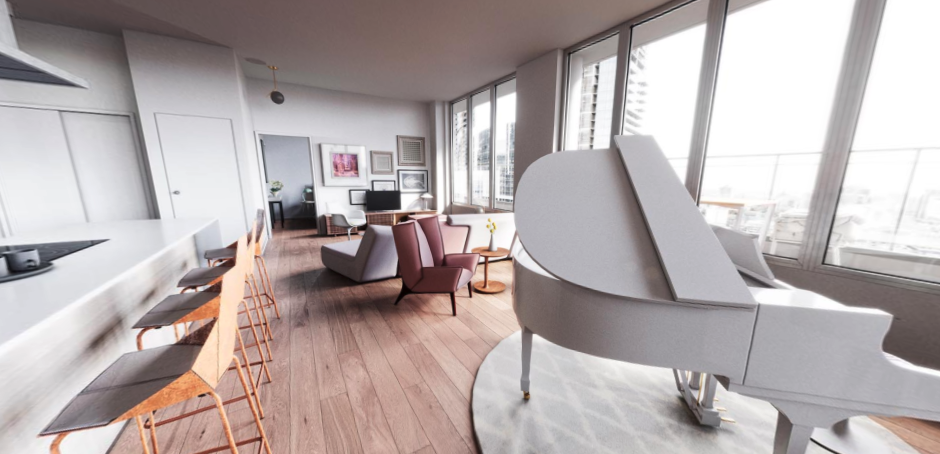 What is interior 360 3D rendering?
A 360° 3D interior rendering is similar to a fixed 3D interior rendering which is a photorealistic representation of an indoor space. This could be any type of indoor space, including a room in a house, the lobby of a hotel, a restaurant, a store or even an office. A 360° 3D interior rendering offers a more comprehensive visualization of the space than a simple fixed 3D rendering, as it focuses on the indoor layout as a whole.
It allows users to look around and explore the entire space. A 360° rendering is a great presentation and marketing tool because it allows users to tour the inside of a room and choose which areas interest them the most by moving around the space using the mouse or the arrow keys on the keyboard.
How is it changing your way of presenting?
A 360° 3D rendering is a great way to strategically showcase an indoor space in its entirety as it allows users to feel as though they've actually stepped inside the imagined space.
This type of rendering can save you time and money all while allowing you to see a space from all different angles. A variety of different visuals are created so that you can anticipate your customer's preferences.
Saving time and money is great, but being able to charm your customers is even better. A 360° 3D rendering allows you to show off your space in its best light. Once you have the images in hand, you can publish them on your website or share them on social media. Whether you are a designer, an architect or a real estate developer, the stunning images are proof of a job well done.
Useful for real estate players
A 360° 3D rendering allows your customers to clearly visualize the space, interact with the image and enhance the beauty of the space, which means that you can sell the space for what it's worth.
You will never let another sale slip through your fingers again by showing your next buyer their home, apartment, condo or loft in a completely new light.
why collaborate with archvyz?
Our team is made up of virtual reality experts that have been creating 3D interior renderings for the past several years. Our team of professionals draws inspiration from hyper-realistic video game graphics to create unparallelled architectural renderings. Creating stunning, realistic designs is what we do best. We would love to speak with you about your project.
For more information on our work process, check out our page on 360° 3D renderings.